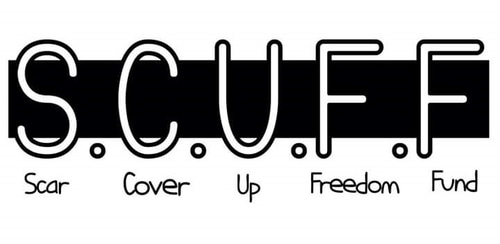 We know the impact self-harm can have on people's lives.
That's why we offer multiple ways to support those who self-harm.
We run self-harm Recovery Workshops to educate and help manage ongoing risk with weekly group meetings.
We also offer drop-in clinics, no appointment required, just turn up and gain access to all of SCUFF's support.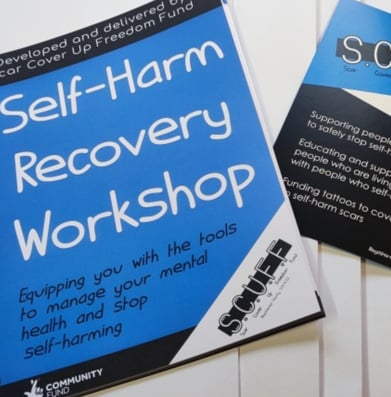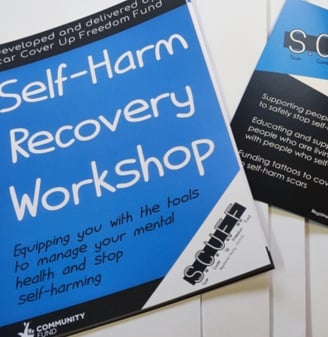 SCUFF's Self-Harm Recovery Workshops provide essential tools and mental health techniques to those who self-harm.
These 10-week therapeutic workshops, run in small groups, are designed to help you understand your brain and learn effective methods to reduce risks and eventually stop self-harming.
Our current workshops:
Keighley workshops are held at Sight Airedale
Bradford workshops are held at the SCUFF office
We accept self-referrals and referrals from professionals and other organisations. We can aid with travelling costs, accept those with support workers, can adjust courses for any disability and ensure that all our venues are fully accessible.
We work with people who use all forms of self-harm including:
- Self-Injury
- Substance Misuse
- Disordered Eating
- Ingestion
- Risk Taking Behaviours
- Negative Self-Image
Just click the button above and fill out the form to make a referral.
If you or someone you know is struggling with self-harm and you need a safe space to go, SCUFF's drop-in clinics are running in Bradford and Keighley.
No booking is required, and participants receive free wound care kits and advice sheets with alternatives to self-harm.
Our fully trained staff and volunteers offer confidential advice and support for people struggling with self-harm and/or family/friends/carers.
We cover all forms of self-harm including: self-injury, substance misuse, disordered eating, negative self image and risk taking behaviour.
If you don't want to talk, you can just sit on our comfy seating and do something fun and relaxing We have colouring books, puzzle books, poetry books, games, blankets and free refreshments.
Drop-in Clinics are usually on:
Wednesdays from 3pm-5pm, held at Sight Airedale
Sundays from 3pm-5pm, held at the SCUFF office
See the calendar below for the most up to date information
(Can sometimes take a few seconds to load)
"Life is slippery. Here, take my hand."
H. Jackson Brown, Jr.
If you are struggling with self-harm then here are some other organisations that can help you